By Marlin Petermann, Papio-Missouri River Natural Resources District
From March 2015 Floodplain Management Today
In late December 2014 and early January 2015, cold temperatures and winter conditions set the stage for possible ice jams along the Platte and Elkhorn Rivers. That partnership we have set up between various NRDs, state and federal agencies, and local governments kept a watchful eye on the river conditions. On January 26th, 2015, ice chunks, broken up from the frozen Platte upstream, started flowing downstream and began to get caught up in a river bend just downstream of the Highway 92 bridge.
On January 27th, early in the morning, volunteer fire departments were called to rescue 4 people from flooded campgrounds at Two Rivers State Park in Douglas County. Papio-Missouri River NRD staff flew the river that day and noticed an ice jam along the Platte River extending approximately 1.5 miles from just south of the extension of Q street. Significant flooding occurred between Saunders County Roads K and L. Some homes along the river had to be protected and evacuated.
Part of the ice jam pushed up against the Clear Creek Levee, which is part of an Army Corps of Engineers Western Sarpy-Clear Creek Levee project in Saunders County.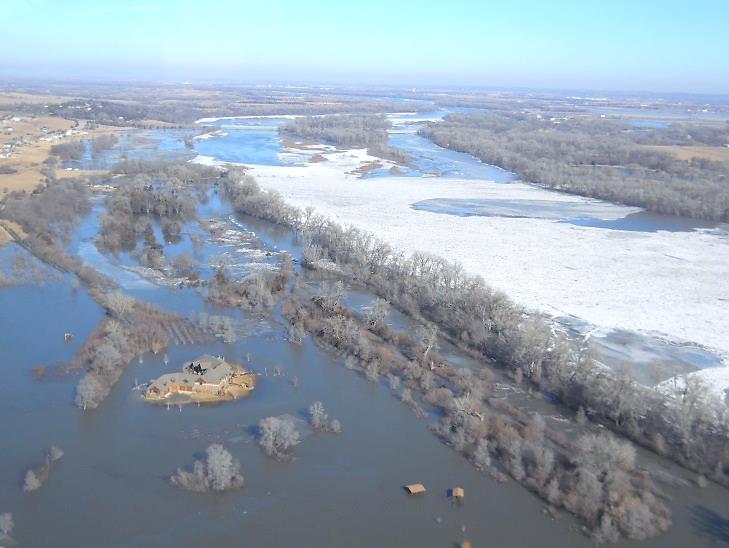 Seepage through the levee was observed at various points and the contractor working on the project worked quickly to shore up the levee. The Papio-Missouri River NRD consulted the partner agencies and declared a flood emergency on the 27th. The ice jam explosives contractor (Dykon Explosives out of Tulsa, OK) was notified to mobilize for blasting operations. The NRD considered two major potential impacts: the situation at the Clear Creek levee and the forecast for more cold temperature later in the week.
As the blasting operations were set up at the state park on January 28th, the ice jam and flooding conditions stabilized and on the 29th a channel opened up in the ice jam and the river was beginning to flow. Floodwaters receded and began to fall as the ice surged downstream. No additional flooding was reported and the natural release of the ice jam led the NRD to call off blasting. The Western Sarpy-Clear Creek Levee Project worked as intended, preventing substantial damages to land and vital infrastructure until the blasting operations were readied. Thankfully, the ice jam released naturally. The crisis was avoided and our partnership worked!