Flood Hazard Mitigation Plan
Upcoming Public Hearing, Meetings, and Input Opportunities
Events will be held across the State of Nebraska during the first week of June 2021. The purpose of meetings will be to collect public input related to impacts from historic flooding that occurred in 2019. Attendees will be able to provide location based comments regarding impacts, repairs and improvements that have been made since the flood, provide comments on recovery efforts including reimbursement, learn about resources related to floodplain regulations, and gain a better understanding of oversight at the local, state and federal level. Information collected will provide a baseline for the plan which will be developed over the next 12 months.
TUESDAY, JUNE 1:  10 AM – 12 PM CDT; LINCOLN, NE
(Public hearing to begin at 11 a.m.; 

Agenda)
Jayne Snyder Trails Center, 250 North 21st Street, Lincoln, NE 68503
TUESDAY, JUNE 1:  5 PM – 7 PM CDT; KEARNEY, NE
Kearney Public Library, 2020 1st Avenue, Kearney, NE 68847
WEDNESDAY, JUNE 2:  1 PM – 3 PM MDT; ALLIANCE, NE
Alliance City Library, 1750 Sweetwater Avenue # 101, Alliance, NE 69301
THURSDAY, JUNE 3:  10 AM – 12 PM CDT; VALENTINE, NE
Mid-Plains Community College Valentine Campus, 715 East HWY 20, Valentine, NE 69201
THURSDAY, JUNE 3:  5 PM – 7 PM CDT; NORFOLK, NE
Divots Conference Center, 4200 West Norfolk Avenue, Norfolk, NE 68701
Interested persons unable to attend an in-person meeting can learn more, provide input and submit questions by navigating through a self-guided online meeting that will be available soon.

Plan Purpose
These actions are provided under the provisions of Nebraska Revised Statute §61-228. The resulting plan will identify cost-effective flood mitigation strategies to reduce the disruption of lives and livelihoods and prioritize making Nebraska communities more resilient and identify opportunities to implement flood hazard mitigation strategies that reduce the impact of flood events. The plan development process will work to improve knowledge and understanding of available recovery resources while identifying potential gaps in current disaster program delivery and identify potential funding sources that can be used to improve the resilience of the state through flood mitigation and post-flood disaster recovery.
Key Benefits
The Statewide Flood Hazard Mitigation Plan development process will benefit Nebraskans and the Nebraska Department of Natural Resources in the following ways:
Increase understanding of Nebraska's flood risks
Give local communities a plan to build on
Position Nebraska for more funding
Incorporate Nebraskans' concerns into future planning

Key Schedule Milestones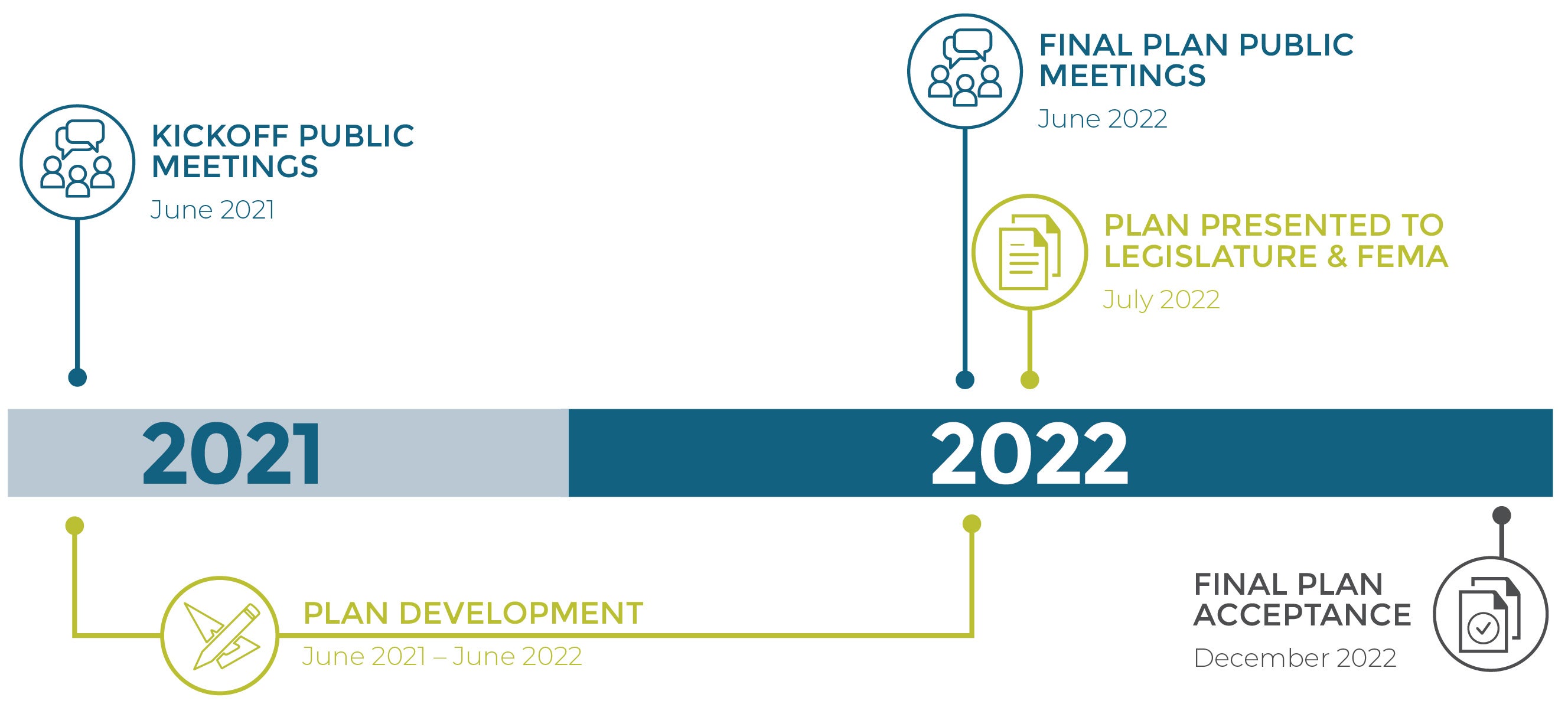 Contact Us
Additional project information may be obtained by contacting NeDNR at (402) 471-2363, or by emailing Adele Phillips at Adele.Phillips@Nebraska.gov
Public Notice:
Helpful Resources:
Cooperating Partners: