Probable Causes and Possible Consequences

Recommended Actions

Unapproved alterations have been made to the dam.
The approval of NeDNR is required before modifying a dam (Neb. Rev. Stat. 46-1646).
The dam may be susceptible to failure if it is not properly constructed with the right materials, if there is inadequate storage capacity, or if spillways are undersized.

Have the dam evaluated by a qualified professional engineer.
The engineer should develop engineering plans for the dam.
Submit the engineering plans and application for approval to NeDNR.
Implement modifications recommended by the engineer and approved by NeDNR.
Alterations to state-regulated dams* that require NeDNR approval include but are not limited to:
Installing, replacing, or reducing flow capacity of spillways
Installing new pipes or conduits through the dam
Raising the crest elevations of spillways so more water is held in the reservoir
Raising or lowering the height of the dam
Placing fill in the reservoir area below the crest elevation of the dam
Excavations into the dam or earthen spillways
Reconstructing a dam after it has breached
Other alterations that increase the normal water storage level in the reservoir, decrease the hydraulic capacity of spillways, or alter the structural integrity of the dam embankment or spillways
* State statutes require NeDNR to regulate all dams in Nebraska with a height of 25 feet or more or a maximum storage capacity of 50 acre-feet or more.
Contact the NeDNR at 402-471-2363 to find out if NeDNR approval is required prior to making alterations to your dam.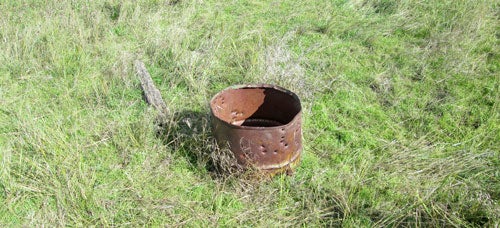 Barrel placed over a principal spillway inlet without NeDNR approval. Raising the spillway inlet will cause the reservoir to rise higher than designed and possibly overtop the dam following heavy rainfall. Prolonged overtopping can cause dam failure