Probable Causes and Possible Consequences

Recommended Actions

Areas of trees, brush, and open water provide ideal habitat for burrowing animals.
An overabundance of rodents increases the chance of animal burrowing, which creates holes, tunnels, and caverns.
Tunnels may reduce the required length of the seepage path, which could cause internal erosion of the dam.
Tunnels can lead to the collapse of the dam crest and may cause dam failure.
Rodent holes make earthen spillways more susceptible to erosion when flow passes through the spillway.

Remove trees and brush from the dam and surrounding areas to reduce attractive habitat.
Start a rodent control program to reduce the population and prevent future damage to the dam.
Backfill existing rodent holes with mud-pack. Mud-pack is made by adding water to a 90 percent earth and 10 percent cement mixture until a slurry of thin cement consistency is attained.
Large holes may need to be excavated and backfilled with compacted soil.

Upstream and downstream burrows can become dangerously close, causing internal erosion that may lead to dam failure.
(Diagram source: FEMA)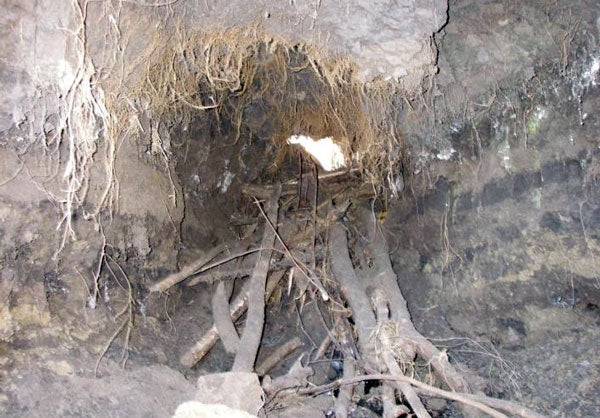 Looking inside a rodent hole in Lancaster County that extended from upstream to downstream, entirely through a dam (Note daylight in the center of the photo).