Probable Causes and Possible Consequences

Recommended Actions

Branches, logs, crop residue, sediment, and rocks can accumulate in spillway outlets.
Reduced discharge capacity will cause the reservoir to rise and possibly overtop the dam. Prolonged overtopping can cause dam failure.
Trees, hay bales, fences, and farm equipment are all common obstructions to flow in auxiliary spillways.
Fence lines in auxiliary spillways can catch debris and become a major obstruction to flow.
Obstructions reduce auxiliary spillway capacity and cause scouring and erosion to develop.

Inspect spillways after large flood events.
Remove debris in or around spillway outlets.
Use extreme caution when attempting to remove accumulated debris during periods of high flow.
Keep your distance when removing debris so that you don't become trapped in flowing water when the flow increases after you remove the debris.
Do not allow trees to grow in the auxiliary spillway. Remove trees and other brush annually. Treat the stumps of deciduous trees with herbicide to prevent regrowth.
Do not store equipment or materials in the auxiliary spillway.
Relocate fence lines so they do not pass through the auxiliary spillway.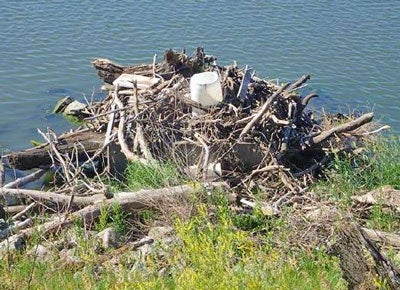 Spillway inlet completely plugged with debris.