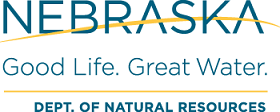 By Carrie Weise
NeDNR and Nebraska Game and Parks Commission staff recently had the opportunity to learn about major programs at each other's agencies, and the meeting was well attended.
The January 14 event was held at the Game and Parks Commission Outdoor Education Center, and featured a variety of presentations along with time for questions and discussion. Game and Parks Commission staff gave updates on their rivers and streams program, water issues team, and Conservation and Environmental Review Tool (CERT). During the rivers and streams program update, program manager Thad Huenemann discussed the program's efforts and noted that a pallid sturgeon had been captured last year upstream of the Platte River/Loup River confluence, on the Loup River. The program surmises that sturgeon were moving upstream due to high-water conditions. Michelle Koch, assistant division administrator, discussed the Game and Parks Commission water issues team, which was assembled to proactively manage water issues relevant to the agency's mission, including tracking and drafting legislation. Finally, the CERT interface was covered by Shannon Sjolie, environmental analyst supervisor. Sjolie gave a live demonstration of the tool, which is designed to be an easy and quick portal for finding endangered species information in project areas and as a tool for submitting projects for environmental review by Game and Parks.
NeDNR staff gave presentations on dam inspections, floodplain management, surface water rights and administration, and integrated water management planning. Tim Gokie discussed the number of dams (about 3,000) in Nebraska that are regulated by NeDNR, and the frequency of inspections done on these dams according to their hazard class. Gokie also highlighted Game and Parks dams including Burchard Lake, which is significant hazard dam inspected every three years. Katie Ringland presented information on the work of the floodplain division, and highlighted the story map for the 2019 flooding on NeDNR's website (https://storymaps.arcgis.com/stories/9ce70c78f5a44813a326d20035cab95a). Mike Thompson and Jeremy Gehle covered surface water permitting and administration, noting the five factors that the NeDNR director must evaluate in order to approve an instream flow permit. Instream flow permits may only be granted in Nebraska to the Game and Parks Commission and/or natural resources districts. Finally, Jennifer Schellpeper discussed the status of integrated management planning and basinwide planning in the state, noting that there are 10 completed required integrated management plans (IMPs), 10 completed voluntary IMPs, and six voluntary IMPs in process. Schellpeper also highlighted the work completed in 2019, which included two basinwide plans and seven IMPs.