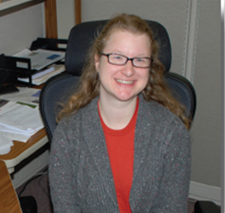 By Carol Flaute
The American Water Resources Association (AWRA)'s National Leadership Institute (NLI) was established in 2015 as an opportunity for state water professionals to share ideas and learn from one another. Each year since then, the NLI's Annual Workshop for State Officials brings together state water planners from across the country for networking, dialog, and presentations about states' water planning efforts.
The fifth Annual Workshop for State Officials took place on November 6, 2019, in Salt Lake City, Utah. Officials from 12 states attended the workshop, including Integrated Water Management Coordinator Carol Flaute from NeDNR's Water Planning Division.
Carol's presentation, "Flooding and Water Planning in Nebraska," began with a brief introduction to Nebraska's state water planning process. She then described how Nebraska has been able to take advantage of some previous Platte River flooding and excess flows by diverting water into irrigation canals to recharge groundwater. Finally, she turned her attention to Nebraska's 2019 flooding. Following her presentation, workshop participants engaged in a discussion about challenges and considerations of flooding as it pertains to water planning and management.
At the workshop, Carol also had the opportunity to learn from other states' presentations. These included information about Alabama's ongoing groundwater resources assessment, water resource management and planning efforts in New Jersey, and North Dakota's Water Development Plan, which includes a comprehensive inventory of water infrastructure development needs throughout the state. There was also time built into the schedule for ample discussion among participants, both during and between presentations, leading to many opportunities for networking and idea-sharing throughout the day.